Hi world. Linking up with
Danielle
today for some confessions. Getting real today.
I didn't do my laundry all week, so last night before we left for pool, I threw my clothes in the washer knowing I had NOTHING remotely acceptable to wear to work today. When I got home, the towels, that weren't completely dry from earlier, had to be put through another cycle. By then it was like 11p and I wasn't going to wait around. I figured well, I guess I'll get up early and throw one of the tops in the dryer. Well, I didn't get up early so my top that I'm wearing right now, is still damp. That's how my Thursday's going. And I'm in an "I just don't care" mood. Do you care about my damp top either? Going to go with no on that one. But that's what the confessions post is about. Honesty. 
My dogs beg so much, and I get it, when they give me "the look" I usually can't say no. I tell myself I'm going to stop, but I probably won't. I mean look at this face:
Why yes, what's mine is yours Penny girly.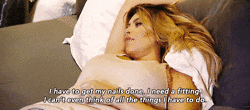 I need a personal day. It needs to consist of me doing what I want, when I want. For the whole day. 
My girlfriends always talk about wanting to go on spur of the moment, you only live once trips. Ya'll paying?! Cool
I also have a guilty pleasure: anything Kardashian related. Their lives are just so unrealistic it's entertaining to me. 
I've been SO good about eating healthy, But last night, I ate wings. I had a side salad with it. But I didn't care. I wanted them. And they were bomb. 
Happy Thursday. Tomorrow is Friday! You've got this!!
xo.